BOOTS & BLING: CELEBRATING 40 YEARS OF KIDSPACE
They say the soundtrack of America is made in Tennessee. Are y'all ready to celebrate the iconic people, places, and traditions of Country Music?
Circle of Friends invites you to help us support Kidspace Children's Museum by attending and/or becoming a Patron of the Boots and Bling 2019 Benefit. This year's Benefit will be held at Santa Anita Park on Saturday, February 2, 2019.
Think Johnny Cash, Taylor Swift and Dolly Parton! Join us for a costumed evening of fun, featuring a silent auction during cocktail hour, followed by dinner, raffles, a live auction, and dancing 'til the cows come home!

All of this in support of Kidspace Museum! Kidspace will be celebrating its 40th Anniversary in 2019, please consider becoming a Patron of the Boots and Bling Benefit. Support provides funds for Kidspace's annual fund and Kidspace for All access programs. Your support helps make a difference in the lives of children in Southern California-- just one day at Kidspace can spark imagination and wonder.

Tickets Cost $275.00 per person. Better yet, consider becoming a Patron at one of the following levels: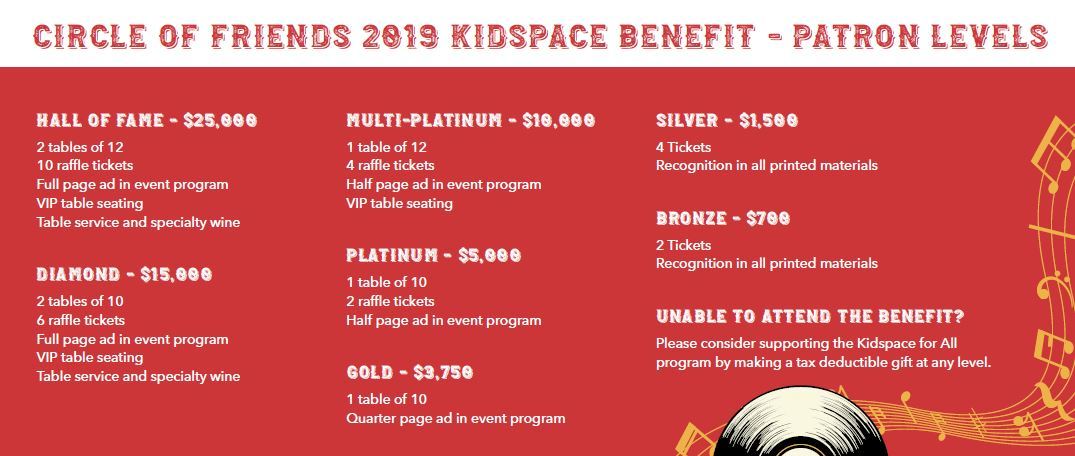 PURCHASE TICKETS
$52,673
RAISED
$10,000
GOAL
| | | |
| --- | --- | --- |
| | | |
| 15 | 112 | 527% |
| Days Left | Tickets | Funded |
Campaign ends 01/30/2019 at 03:00 PM (EST)